In September 2022 there were 600 pupils enrolled at St. Joseph's NS and 50 staff members. Our school has a population of diverse nationalities. At present in our school community we have the following nationalities: Irish, English, Welsh, Lithuanian, Latvian, Ukrainian, Croatian, Serbian, Slovakian, Polish, Spanish, Chinese, Indian, Japanese, Malawian, Nigerian, Thai.  We welcome children of all faiths and at present we have children of the following faiths:  Catholic, Church of Ireland, Christian, Muslim, Hindu, Orthodox, Greek Orthodox, Buddhist, Baptist, Pentecostal, Wesleyan Methodist, Jehovah Witness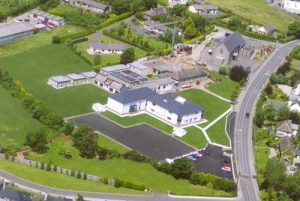 St. Joseph's NS Templerainey was opened in September 1942 with two classrooms and 90 pupils. A third classroom was added in 1947 and a fourth in 1958. In the sixties and early seventies prefabricated classrooms were erected to cater for the rapid expansion. In 1975 a major extension took place – six classrooms, principal's office, staff room, kitchen, library, recreation hall and toilets. In 1986 a modernisation programme was undertaken and several further improvements have been done in subsequent years. In September 2004 a further major extension costing over €3,000,000 was opened. This comprised 9 new classrooms, Staff Room, Principal's Office, new G.P. Room, Stores, lifts and Computer Room.  
In September 2018 we completed a new building project comprising of ten mainstream classrooms and four resource rooms to replace prefabs.   St. Joseph's school has twenty four mainstream classes, a Computer Room and a PE Hall. We have four special classes for children with Autism and we have one class for children with Mild General Learning Difficulties.