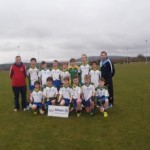 On March 26th, St.Joseph's played in the county final which was held in the County Wicklow Centre of Excellence Grounds in Rathdrum. This was the first county final that the school had ever participated in, in Gaelic Football, and this, added to the fact that it was the premier grade, made it all the more special for the boys. When the competition began last October, 74 teams took part. After 4 blitz' the final 8 teams were picked (2 from each division in the county) participated in the county final in Rathdrum.
The boys left the school on Wednesday morning, hoping to do the school proud. And this, they did.
The 8 teams were divided into 2 groups, with St.Joseph's being grouped with Aughrim N.S., Dunlavin N.S. and St.Kevin's N.S. from Greystones. Each of these schools regularly competed in county finals each year.
The first game was against Aughrim N.S. In two previous meetings earlier in the season, Aughrim had come out on top comfortably, both times. St.Joseph's knew that it was going to be a tough ask to turn around the previous meetings. However, after playing into the strong wind, we found ourselves to be unlucky to be behind by 1-1 to 0-0. Brian Fennell led by example at full back throughout the day, marshalling his troops from the back from the first minute to the last minute of each game. His twin Ben was a constant thorn in every team's side and along with Elliot Young at midfield, ran their hearts out. Every team needs a man that can score on sight of goal, and the man to do this for St.Joseph's was Jack O'Reilly. Every time Jack got the ball in his hands the other team were under threat. It was these 4 boys that led the comeback against Aughrim, and we won the game on a score-line of 2-2 to 1-1. Michael O'Halloran and Ryan Tolan won every ball that Aughrim kicked down on them. Darren Gilhawley and Daragh O'Byrne kept their men scoreless. Up front, Cian McBride, Joel Greene, Darren Riley and Jack Kavanagh looked dangerous every time they got the ball in their hands. Daniil Dranko kept his side in the game on two occasions in the 2nd half with fantastic saves when a goal seemed the most likely outcome.
After a short break, we played the winners of the other game in our group, Dunlavin N.S. Dunlavin had beaten St.Kevin's comfortably in their first game and having finished second in this grade last year, Dunlavin were one of the favourites to go all the way this year. They got a fright from St.Joseph's as we never gave up, constantly putting pressure on each of our men. Having played into the wind in the first half, we trailed by 1-3 to 0-0. St.Joseph's knew that this game was not beyond them, having turned around a similar score-line in the first game. We tore into the Dunlavin boys from the throw-in and were almost rewarded with two goals, with each opportunity scraping the wrong side of its target. At the other end, lady luck was shining on Dunlavin with them getting two lucky goals, as St.Joseph's pushed to try and eat into the Dunlavin lead. Unfortunately, we failed to recover from these setbacks and Dunlavin ran out deserved winners on a score-line of 3-5 to 0-0. The score-line did not represent the full story of this particular match. We had enough possession and scoring opportunities to be much closer. The boys could not be faulted for effort. Again, the Fennell twins led by example. Their work-rate and fitness was excellent to see and this encouraged each of their team-mates to follow their example. Daniil Dranko was again excellent between the posts. He made numerous saves which gave us hope for a revival. Darren Gilhawley, Ryan Tolan, Michael O'Halloran, Daragh O'Byrne and Elliot Young showed immense effort in the white of St.Joseph's. They fought for every ball and really made life difficult for the skilful Dunlavin forwards. Jack Kavanagh, Joel Greene, Jack O'Reilly, Cian McBride and Darren Riley were doing their best to bridge the gap every time they gained possession and with a little luck, on another day, they would have hit the target on more than a couple of occasions.
Our final game saw us take on St.Kevin's N.S. from Greystones. We knew that in oreder to finish top of our group, that we would need to beat St.Kevin's and hope that Aughrim would beat Dunlavin. Dunlavin narrowly defeated Aughrim, so regardless of our result, the best we could hope for was a 3rd placed finish overall. St.Kevin's played with the wind in the 1st half and led at half-time on a score-line of 3-4 to 0-2. This was going to be our biggest ask yet, as St.Kevin's look dangerous every time when in possession, and they were clinically scoring each time they got the ball. This really was to be a game of two halves. St.Joseph's, inspired by Jack O'Reilly and Darren Riley in the full forward line, got the score back to within 3 points. However, despite our second half dominance, we failed to take our chances and we ended up losing by 2 points. The back-line of Brian Fennell, Darren Gilhawley, Michael O'Halloran, Ryan Tolan and Daragh O'Byrne gave everything to beat their men and supply quality ball to forwards. The midfield pairing of Ben Fennell and Elliot Young ran themselves to a standstill and were a constant driving force to their team mates. The forwards, Jack O'Reilly, Jack Kavanagh, Darren Riley, Joel Greene and Cian McBride were excellent and never stopped trying to claw back the deficit.
The squad on the day was: Daniil Dranko, Darren Gilhawley, Brian Fennell, Michael O'Halloran, Ryan Tolan, Darragh O'Byrne, Ben Fennell (Captain), Elliot Young, Jack Kavanagh, Cian McBride, Darren Riley, Jack O'Reilly and Joel Greene.
The day concluded with the team being brought to McDonalds for a post-match meal as a reward for their outstanding efforts throughout the season.
Mr.Luby, Mr.Storey, Mr.Doyle, Ms.O'Sullivan, Ms.Dalton and Mr.Kelly would like to take this opportunity to thank the boys for their efforts throughout the season. Their attitude was excellent from the very start, and they never stopped showing a willingness to learn and improve. They were a credit to the school and their families. It was the first county final which the school competed in, and we are very hopeful that it won't be the last.
The boys then went to McDonalds on their way home for a treat.