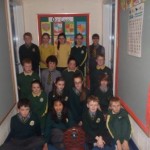 The school recently sent 4 teams to the under 13 section of the Credit Union Table Quiz held in Áras Lorcáin. On the day, 26 teams from Arklow and surrounding areas took part. We had a mixture of boys and girls from 5th and 6th classes. Each team performed with great credit and the school filled 4 of the first 6 places on the leader board! The teams finished 1st, 3rd, 5th and 6th respectively. The school are extremely proud of the boys and girls who took part, as they willingly gave up their free time to represent the school. It was also the first time that the school were successful in the divisional area final of this competition!
The winning team went on to take part in the regional final, for the winners of each division. The regional final was held in Gorey. Unfortunately, they did not qualify for the All Ireland Final of the quiz but they performed with great credit only missing out by 6 points on a final spot. The team that competed in the final consisted of 3 people in 5th class and 1 from 6th, which bodes well for next year!
The boys and girls who took part in the quiz were: Ryan Sheridan, Katie Garrett, Katie Cooke, Piotr Paneczko, Adam Lambert, Róisín Quintin, Jessica Osypov, Daniel O'Reilly, Martin O'Brien, Kelsey Devlin, Aoife McBride, Conor Parkinson, Aimee Bodell, Leah Weldon,  Tadhg Nolan, Leigh Kelly-Nolan and Dano Murphy.
Well done to all involved!