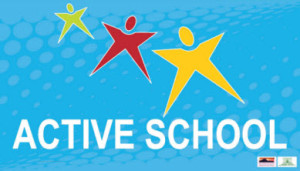 We have received great news this morning in St.Joseph's N.S.! We have been awarded our 1st Blue Active School Flag, after 2 years of hard work. Following a recent visit to the school from a member of the Mayo Education Centre who grant schools this flag, based on their knowledge and work rate with regards to the promotion of being healthy and active in the school environment, we have been granted this great award. The flag has been granted to us from 2015-2018, after which we will have to re-apply once again. We are only the 8th school in County Wicklow to be granted this flag, and the first in our locality.
The Active School Flag was launched by the Department of Education in May 2009 and is organised through Mayo Education Centre. The purpose of the initiative is to recognise schools (primary, post primary and special schools) that strive to achieve a physically active and physically educated school community.
This news comes after massive work from the Active Schools Committee, parents and teachers in the school and it is a fantastic honour for our school. We are extremely proud of all the children for their efforts to improve their own lifestyle and expand their interests.
In our school we have put a major emphasis on giving children opportunities to experience different sports and activities. We have done this through our boot camp which has been a massive success along with P.E. classes and leagues involving different games at lunch times. This improvement would not be possible were it not for the hard work and dedication of our wonderful Active Schools Committee, who work hard to organise and promote games in our school.
We will be having a ceremony to mark this great award before the end of the school year, most likely during our Active Schools Week, which runs from June 13th– June 21st. This week will also see us holding the final of our annual School GAA Leagues, along with our Sports Days and our Annual Teachers versus Students Soccer match. We will also be holding a Golden Mile event after school during that week.